Customer testimonial
Franck ANDRIEUX - Head of TIDS division

Pixmobi allows us to overcome compatibility with various devices and focus on the provision of data accessible through web services...
References
Pixmobi is currently used by more than 300 mobile websites, here are some significant references.
Bricomarché - Environmental labeling

Following the approach adapted during the "Grenelle de l'environnement", over 100 companies and nearly 10 distributors have joined their forces to analyze the feasability of an environmental labeling of products.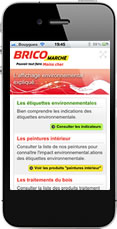 Bricomarché has choosen Pixmobi to conduct the experimental deployment of displaying environmental information on some products through a mobile website accessible form a 2D code.
The project objectives were:
Allow Bricomarché customers to know the environmental impact of products they consume.
Through a mobile website, offer an interactive and fun tool.
Make this website accessible to most users (to smartphone users, regardless of the platform used).
Give access to the mobile website through a QRCode.
CSTB - Centre Scientifique et Technique du Bâtiment

The CSTB (Centre Scientifique et Technique du Bâtiment) wished to provide to professional of the construction an application available on mobile phones mainly dedicated to give information on construction products.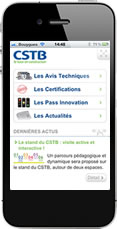 The CSTB has choosen Pixmobi to create :
A mobile website accessible through all smartphones. Pixmobi get access to contents (Technical advices, Certifications, …) through Webservices.
A mobile application for IOS, Android, BlackBerry and Nokia platforms. The application reuses contents and graphical presentation of the mobile website to be updated automaticaly each time the website is updated.
The mobile website and mobile application gives access to information on products evaluated by the CSTB : Technical advices (searchable by company and by product family), Certifications (NF, CSTBat, Acotherm, NF UPEC), Pass Innovation. CSTB news are also accessible thanks to this service.
Monaco Telecom - Operator portal

Monaco Telecom, triple-play historical operator (phone, mobile, Internet) of the "Principauté de Monaco" had to have a mobile website.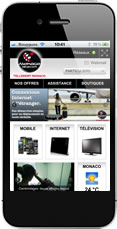 Thanks to Pixmobi, Monaco Telecom now has the mobile version of his desktop website with a map that allows you to geoltag the closest storefrom your position.
Monaco Telecom objectives was:
Make his desktop website information accessible on mobile devices
Avoid double entry (desktop website and mobile one). Thanks to Webservice connectors, the mobile website is updated each time the desktop one is changed.
Ensure the best compatibility with all devices.
Being independent regarding design and configuration management without requiring a web expert.
Customer testimonial
Franck ANDRIEUX - Head of TIDS division
Public institution dedicated to innovation in construction, the CSTB, Centre Scientifique et Technique du Bâtiment has four main activities: research, expertise, evaluation, and dissemination of knowledge. Its expertise covers construction products, buildings and their integration into the neighborhoods and cities.
Main project objectives
Offer up to date information on construction products (Certification, Technical advices and Pass Innovation) to professionals.
Why did you choose Pixmobi ?
Pixmobi allows us to overcome compatibility with various devices and focus on the provision of data accessible through web services. Moreover, Pixmobi gives us sufficient autonomy to enhance our offer ourselves by creating new applications.
Within your project, what do you think the main strengths of the solution ?
There are several:
Interconnection to our information system simply by setting the "webservices connectors";
The power of the Back Office to customize without any development;
The rapidity and relative ease of implementation.
Are you satisfied by COWEMO support ?
The COWEMO company demonstrated professionalism, great expertise in web and mobile applications and careful listening that goes beyond the role of a supplier.