Back office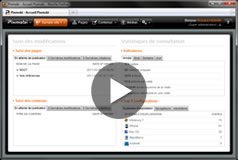 To discover the power of Pixmobi's back office, have a look on the demonstration videos.
Web mobile display

To discover the possibilities and the rendering of pages produced by Pixmobi, Go to Demo section Pixmobi's mobile website : m.pixmobi.com/demo-en
If you are not able to consult it from your mobile phone, you can have a more realistic overview with : www.mobilephoneemulator.com.
Main features
Administration features
Multi-sites management **
Languages management
Pages management


(Composition and tree)

Contents management
Content types management **


(Contents definition)

Publication & versionning management


(Pages and contents)

Medias management


(Images, videos, documents…)

Folders & categories management
Presentation management
Forms management
Users management

(Administrators)

Profils management


(Rights/section)

Email notifications

Visitors management

Users informations management


(User definition)

Groups management


(Access permissions)

Comments management

Interactivity management

Metas management
URL rewriting management
Type of modules management *
External contents management *

CMS plug
XML connector
Web service connector
Web scraper

Cache management
Account/License management
Analytics management
Pages customization :


Modules contextualized according to

device (Phone, tablet or PC)
visitor permissions
"consultation mode"


(Website or Application)
e-Commerce ***


Products management


(Prices, stocks, references, ...)

Payment types management


(Paypal, CB, check, ...)

Shipping fees management
Taxes management
Orders management


(Customers, order states, ...)

Stock management
Technical features
Back office
Contents modules
Forms
e-commerce ***
Navigation modules
Navigation menu
Breadcrumb
Site map
Language switcher
Section title

(dynamic)

Accordion
Tags
Dynamic links

Internal page

(with module anchor)

Previous page
Parent page
Top of the page
External URL
Medias

(file)

Email
SMS/MMS
Phone call
Image zoom
Screen zoom
Module in lightbox

(Modal window)
Pages interactivity
Viewport zoom
Ajax navigation
Show/Hide

(module)

Liste/detail view slide
Tabs

(module)

Accordion

(modules)

Link on multiple fields
Opening in lightbox

(Modal window)
Contents interactivity
Image zoom
Content list Carousel
Content list accordion
Widgets
Google map
Google weather
Share on social networks
Add to Home screen

(IOS only)
* Features dedicated to Pro & Premium Licenses ** Features dedicated to Premium Licenses *** Option
Overall logic

Quickly adapting to Pixmobi requires the comprehension of the overall idea: a web page is built with "modules" which are made up of "contents".
Page layouts -> Web pages
Modules types -> Modules
Content types -> Contents
In terms of structure, a web page inherits from a "layout" (page template which can itself include modules) but also, in terms of presentation, from "graphical styles".
Modules settings are defined according to a "module type" (module layout) and contents are structured depending on the "content type" definition.