Mobile internet key figures
The penetration rate of mobile sites is faster in France than in the rest of Europe.
If today in France it is 11 %, it is expected to rise to 41 % by 2014. Over the same time period in the rest of Europe, the penetration rate is expected to increase from 17% to 40%.
Source : Forrester (March 2011)
The mobile internet audience
15.5 M mobile internet users in France
25% of the French population is equipped with a smartphone
In the fourth quarter of 2010, 92.4% of mobile users have visisted at least one internet site and 37.7% have opened an application
In the top 20 mobile sites visited, Google is in the lead ahead of Facebook and France Telecom Twitter is in tenth place, which it is far from achieving on the mainstream web
Source : Médiamétrie Netrating (March 2011)
A mobile web site ?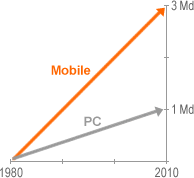 To render a brand accessible at all times :
"AnyWhere, AnyTime, AnyDevice !"
The uses are increasing rapidly
Today there are 3 billions mobile terminals on the planet, which is 3 times more than the number of so-called "office" computers.
With the advent of latest generation mobile telephones (Smartphones) and above all the recent offers of unlimited internet access the number of mobile users1 continues to rise.
Most market observers agree that within 3 years there will be more internet connections from a mobile device than from a computer.
"Classic" sites must adapt
Taking into account the characteristics of mobiles (reduced screen size, reduced power and battery life but also the context in which they are used (persons on the move), existing sites must adapt in order to provide the best user experience.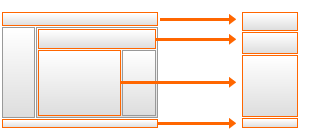 In order that a mobile user can easily and quickly find the information sought, it is necessary to rework the contents and their organisation: "Focus on the essential".
But it is above all imperative to adapt their presentation based on the capacity of each terminal.
Having a site dedicated to mobile users and  perfectly adapted to all types of mobile means that the site will have maximum visibility !
The mobile: an efficient medium at the service of all marketing objectives
Develop
a brand
Make a brand available at all times
Strengthen the impact of multi-channel campaigns
Benefit from the innovative image of the mobile
Win
new customers
Promote products and service to prospects
Generate traffic at points of sale
Create a customer database
Develop
customer loyalty
Organize loyalty programmes
Enable customers to access their personal online spaces
Offer customers a better order or reservation tracking process
Optimise after-sales service
Generate
revenue
Offer an additional sales channel
Stimulate impulse buying
Monetise a mobile site's audience
Promote in-shop sales
Mass media :
More than 90% of the French population are equipped with a mobile
Enables communication to an audience otherwise difficult to attain with other media
(9% of mobile users are not internet surfers)
Nomad :
A permanent link with the customer (connected almost all the time)
Allows for messages to be adapted based on the time and place
Personal :
A individual and highly targeted contact (the only media never shared)
Appropriate to establishing a close relationship
Efficient :
20% of mobile users having received a promotional SMS have clicked on a link
The click rate on mobile adverts is on average between 1%  and 3% (vs less than 0.2% for internet)
(Source : AFMM - Guide du marketing mobile 2010)
A mobile site or a mobile application ?
"Both... but priority
is given to the mobile site !"
A mobile application is ideal for generating customer loyalty, but a prospect will not go looking for your application and will use his or her mobile search engine.
A universal mobile service
A real "mobile service" must be universal. However, by its nature, an application is a programme developed in a proprietary environment which precludes it from being compatible between one operating system and another.
In addition, these applications have been developed only for latest generation Smartphones, which represent only one third of the market.
Only the mobile web site (properly designed) is able to address all the mobile terminals connected.
Manage costs
Today four platforms (Apple iOS, Google Android, RIM BlackBerry and Microsoft Windows Phone) share the majority of the Smartphone market. What's more is that the market share proportions of each vary greatly between one country and another.
In order to attain the largest number of people, 4 versions of the application must be developed. Between the development and maintenance costs (operating systems are continually evolving) ROI2 is much less manageable than a mobile site.
Gain in flexibility
The development constraints and the long validation process implied by the different application shops lengthens considerably the lead time for new application versions. With a mobile site, the update is immediate.
Within the framework of a publicity campaign, the development of a mobile site is an absolute minimum in order to propose landing pages adapted to all types of terminal A wide variety of marketing tools enable the generation of immediate traffic on a mobile site (SMS, MMS, QR, Codes, display, sponsored links etc.) whereas an application requires prior installation.
The trend is reversed
The figures demonstrate that as mobile usage matures, mobile users surf more and more and open fewer and fewer applications. The large number of applications makes their search tedious and their high update frequency is starting to bother users.
Thus thanks to some of the latest innovation in bespoke tools such as Pixmobi, a mobile site is now able to reproduce a similar user experience as that of an application.
Pixmobi can do both!

Applications and mobile websites do not meet the same objectives and are not made for the same target. For many reasons (listed above) priority should be given to mobile website.
However, if both are needed, knows Pixmobi how to build hybrid applications that encapsulate the pages of the mobile website in order to maintain the control on the contents of the application.
Website and application are updated at the same time.
1 Users connecting to internet from a mobile terminal
2 Return on investment