Want to be our partner ?

To become a Pixmobi "certified agency" and get access to specific offers as well as a dedicated support, don't hesitate to contact us.
Pixmobi works also with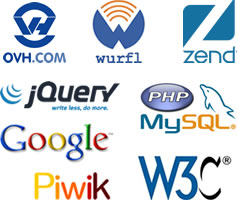 Partner agencies
You are looking for a local partner to assist you setting up your mobile strategy that is able to integrate your mobile website with Pixmobi ?
Communication Agencies

Elected integrated communication agency in 2010, Euro RSCG C&O is a global agency that can convey brands to the right audiences throughout the world.
Euro RSCG C&O is part of Havas and Euro RSCG Worldwide network and is a member of AMO world leader leading consulting firms in strategic and financial communications.
Contact : David Mencarelli

In a changing world, Actualys assists you in the heart of the era of digital communication to provide you consulting and relevant solutions to give life to your projects.
Thanks to its four areas of expertise, actualys offers you powerful and innovative features to address you issues of conquest, loyalty, product launches, communication, branding, e-business and e-commerce.
Contact : Alexandre Hampe

Because we think that there are no easy solutions. That each customer has different issues, a story, a personality. We prefer to imagine that between us we building reflection and action plans that fit the organizations, market, technology and people. The practice, from the trades council, are the foundation of everything we do. These skills then irrigate the four poles of the agency: Creation - Web - Content - Visibility.
Contact : Emmanuel GALERA
IT Services Companies

Sogeti is a leading provider of professional technology services, specializing in Application Management, Infrastructure Management, High-Tech Engineering, Testing and mobility.
Working closely with its clients, Sogeti enables them to leverage technological innovation and achieve maximum results. Sogeti brings together more than 20 000 professionals in 15 countries and is present in over 200 locations in Europe, the US and India. Sogeti is a wholly-owned subsidiary of Cap Gemini S.A., listed on the Paris Stock Exchange.
Contact : Jean-Charles Noirot
COWEMO

Pixmobi solution creator, COWEMO company has all the ressources necessary to assist you setting up a mobile website with Pixmobi.
Contact : contact@cowemo.com