Discover the mobile version !

"Flash" this code with your mobile phone to discover Pixmobi's mobile website.
If you cannot access or read this site from your mobile, you can get an more realistic idea of its look and feel at the following address www.mobilephoneemulator.com.
A professional tool dedicated to the mobile web
With the explosion of the mobile market the number of mobile users is constantly on the increase. It has become a necessity to have a web site which is perfectly adapted to mobile terminals.
As a mobile website is quite different from a "classic" site, a dedicated tool is required.
Pixmobi is a Mobile Website Content Management System :
Totally dedicated to mobile
From the administrator's interface to the functions available, Pixmobi has been designed specifically for the mobile web.
Compatible with all mobile devices
Thanks to its mobile detection system, Pixmobi generates the pages specifically adapted to the type of mobile in order to create the best user experience possible.
100% customizable (0% coding)
From the structure of contents and page composition to the graphical presentation, everything is entirely customizable simply by modifying parameters
Truly professional
With access rights, publication workflow and version control, Pixmobi responds to the expectations of professionals with  all the functionality  of the best CMS on the market.
Open and extendable
Pixmobi is able to retrieve existing contents such as from your standard site using its widget engine, it is able to adapt to specific requirements.
Fast
Without any development or particular technical knowledge create your professional mobile site for free !
Sign up
Choose your model
Customise it easily
Publish in seconds
Online mobile phone emulator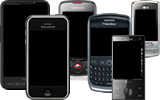 Need to test the performance of a web site on different mobiles ?
www.mobilephoneemulator.com